It's Not a Beauty Pageant, It's a Scholarship Program
Inside: One woman's ill-advised yet hilarious journey into a beauty pageant, and the lessons learned.
---
"It's not a beauty pageant, it's a scholarship program."
Let's call a spade a spade. While I was quoting Sandra Bullock A LOT at the time, this thing I was doing was a beauty pageant…
And while the experience may not have been beautiful all the time, it was really funny. Plus, I left with some great life and career lessons in tow.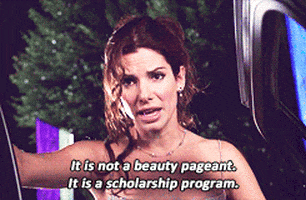 Working Hard for the Money
The year, 2002. The main character, a 17 year old with dreams, and those dreams included taking out as few loans as possible for college.
With that goal in mind I applied for every scholarship known to man. For some reason, a direct descendant of John Adams won the Daughters of the American Revolution scholarship…  And I didn't "meet the minimum requirements" for the Rodeo Riders of America scholarship…  I call bull.
But when another scholarship opportunity presented itself I jumped on it, and entered America's Junior Miss Pageant Scholarship Program. They have since changed the name to Distinguished Young Women, which was VERY smart. America's Junior Miss kind of screams "Toddlers in Tiaras" whereas Distinguished Young Women definitely screams "there is an academic portion of this pageant dammit!"
Let's go on a little behind the scenes tour of pageant life shall we?
Scoring was based on 1) Fitness, 2) Interview, 3) Poise, 4) Academic Achievement, and my personal favorite 5) Talent. We'll break it down by the local competition level and the state competition level, which in a completely baffling twist I went to after a win at locals.
Fitness
Local: The theme of the pageant that year was AMERICA! If you haven't high kicked to "America" by Neil Diamond you haven't lived. There was also a stretching portion to "God Bless the USA" by Lee Greenwood…
State: Oh dang, the big leagues… I fumbled my way through the kicks and jumping jacks of locals but things got REAL at states. There was so much choreography, and so much neon spandex, and so many trained dancers. I wasn't just a fish out of water, I was a fish on desert safari.
BUT part of our routine was set to Ozzy Osbourne's "Crazy Train" and I think I can still do part of it. So there's that.
Interview
Local: This is the part where you talk about your hopes and dreams to four strangers sitting in a high school classroom. You should also ideally quote Mother Teresa four times at a minimum. Nailed it.
State: Same Mother Teresa quota, but up your game a little. I had a killer maroon suit with matching shoes that I used for the State interview. Picture a teenage version of Working Girl.
By the way, I crushed Interview which was a good sign of things to come in my career. Think back on what you were good at as a kid, folks. It could lead you in interesting career directions!
Poise
Local: Oh poise. This involved more choreography but I was better at this one because it was slow motion walking in lines and smiling. You also got to wear your prom dress again, so score! Poise also included a live question and answer portion. So basically this: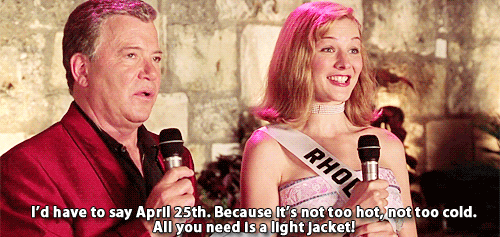 States: DAMNNNNN was I outclassed at states.
We all had to wear red dresses and heels, giving off a very The Handmaid's Tale Prom vibe. I looked fine, but these other girls were out of control gorgeous. The hair! The teeth!
While I could get my way through the behind-the-scenes interview question and answer portion, doing that live on stage next to these pros? Geesh…. I managed but probably also said "Dude, like seriously…" at some point and was docked points.
Academic Achievement
Local: All they needed were our grades for this part. Nerd Alert! I did well in this section.
State: Nerd Alert X 2! You're looking at the Massachusetts Junior Miss Academic Achievement award winner. (Curtsy)
Talent
Local: To participate in this pageant scholarship program, you were supposed to have a talent. For whatever reason I thought I could wing this…
I had outgrown my ballet slippers, 13 years ago. My voice is like the heavenly sound of 1,000 angels with pitch issues. My piano playing abilities, well, we've discussed that. So my talent – Performance Sign Language! I'm not kidding, I WISH I was kidding.
Signing along to the music from the last scene of Casper accompanied by a PowerPoint slideshow of pictures representing friendship, I used all of the American Sign Language skills I learned in the summer of 1999 to dazzle the crowd. It was in a word, magical.
State: Here's my favorite part of my pageant experience. When I won the local competition and was going on to states, my local chapter decided I needed some coaching in the talent department. So, on a weekly basis I went to a dance studio to practice my performance sign language, adding more theatrics for the stage.
My coaches were absolutely the loveliest people on the planet and I'd like to thank them sincerely for their patience. This situation was essentially like giving Picasso a paper plate and 4 broken crayons and hoping for the best. (So we're clear, I was the red broken crayon.)
The other girls' talents at States were amazing. Irish step dancing, singing, violining, hilarious poem about lack of talent reciting  (you crushed it, Kyla.) And if I actually knew ASL well, it could have been good.
But as it was, I was like the kid sister wanting to participate and the big kids were like "Oh, sure… why don't you stand over there and tell us when you're done so we can get on with the rest of the show. You brought a slideshow? That's cute…"
And Massachusetts' Junior Miss Is…
Not me. Definitely not me. But I proudly held the Greater Capeway Junior Miss title for a year and got to ride in a parade.
Plus I did win some scholarship money which was awesome.
Most importantly, I can joke all I want, but the whole process was really fun and I met some wonderful people. I also really pushed myself out of my comfort zone, so big points for that. Not to mention that I now know how to turn very gracefully while smiley coyly at a crowd. #LifeSkills.
Career Takeaways
Let's see… career lessons from my beauty pageant experience. There are actually a lot!
1. Try Something New
You never know what will happen unless you try, right? If you want to go for something in your career, don't sit around. Try it. What's the worst that could happen?
2. Don't Take Yourself Too Seriously
If I had taken myself too seriously I would NOT have had fun at that pageant. I also wouldn't have won a bit of scholarship money. We get one shot at life to my knowledge, and your career is a big part of that life! Go ahead and infuse some fun in it!
3. Get Coaching
This is going to sound a bit biased because I'm a career coach, but hear me out.
I didn't win the Talent portion of that pageant. I mean, obviously. But I was WAY better at States than I was at my local competition and that was because of coaching. They gave me tools, strategy, support, and accountability which was HUGE. Your career coach doesn't have to be me, but go find your coach!
(But if you want it to be me, let's chat!)